Camping Tent Features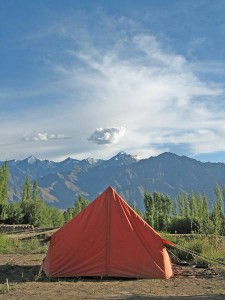 Here are some basic camping tent features (with descriptions) to look out for when finding a good camping tent.
Camping Tent Features To Look For:
Durability
Check to make sure that your tent has sturdy poles, securely fastened grommets, double-sewn seams reinforced with nylon tape, and heavy duty, non-rusting zippers. Test the zippers; they should open and close freely, and should not catch or bind up on the tent fabric. Your tent should come with a bottle of waterproof seam sealer. The seams in a nylon tent, such as on the floor and fly, must be waterproofed before your first trip.  Let the seams dry before packing the tent.
Fabric
Most tents are made out of nylon because, if it is well woven, nylon is both lightweight and extremely durable. Coated nylon is used for waterproofing; nylon mesh is used for inner walls. Although polyester is slightly heavier than nylon, it doesn't expand when wet and is more tear resistant. Ripstop fabric does exactly what its name suggests – prevents tears and rips. Canvas tents are very durable, but are also very heavy.
Framework
A tent with a flexible framework (one that can bend without ripping and breaking) is an essential feature. Choose a tent with sturdy, good quality poles.
Poles
Your tent's poles should be light, simple and easy to setup. Many quality poles are made out of aluminium because the metal is lightweight and resilient. Poles can also be made from fibreglass. Most tents have poles that are linked together with an elastic shock cord, making for an easier setup.
Setup – A tent with shock-corded tent poles speeds setup; it is convenient if you are planning to move to different campsites frequently. If you are staying in one place, however, a cabin tent may provide the most comfort for your family. It will be helpful if your tent comes with colour coding to aid setup.
Rain Fly
A rain fly is made of waterproof material that extends over the tent. It can protect you tent from the rain and from the harmful rays of the sun that can damage the waterproof coating on your tent. The best, and most effective, rain flys extend all the way to the ground.
Guylines
Guylines connect through the rain fly to the pole and the tent. This feature will make your tent much more stable in windy weather.
Vestibule
A vestibule serves as covered front porch or an entry-way to your tent.
Ventilation
Air vents in the top of the tent will help to eliminate condensation on the interior walls of your tent. Mesh panels will allow breezes to make your tent cooler and keep the bugs out.
Insect Protection
No-see-um netting in the doors and windows will help keep unwanted insects out of your tent.
Waterproof
If your tent is not assembled tautly and made with a well-coated, water-resilient fabric, rain can accumulate on your tent roof, make it sag and water will drip through the material.
Roominess
If you have a car to carry your tent, consider get a tent that is rated one or two people more than will be using it. If you can stand up in your tent, its guaranteed to be more comfortable.
Warranty
A truly well-made tent will have a life-time warranty. Remember to save the company information when you buy a new tent so that you can contact them if necessary.
Author: Kirsten Reimer
(CampTrip Team)