Planning a Camping Trip in Western Australia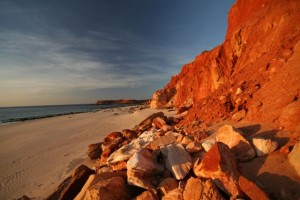 As with any major holiday, planning is a crucial step in ensuring that your camping trip will go off without hardship. When we made our own four month camp trip endeavor by campervan, covering over 15.000 km from Darwin to Sydney. We encountered several moments when our up-front planning helped us out.
Planning a Budget Camping Trip in Australia:
Don't be put-off; we didn't write a 40 page itinerary. Sensible milestones and good improvisation while you're on the road will help to ensure a smooth trip. So here is a list of items that you will need to have covered if you plan to embark on a type of journey that covers several weeks, if not more. You may also want to have a look at the camping checklist which will aid as a reference on what to pack.
Buy or Rent a Campervan
This is actually not a hard decision to make. Basically it comes down to money, convenience, and the amount of  time you plan to be gone. If you are only traveling for a couple of weeks, you should really consider renting a campervan. In our case, we went on a two and a half month trip. This  meant that it was not worth buying a car as we could find better deals renting a campervan. We did our homework, shopping around for deals. I really do NOT recommend going with Wicked Camper. Their campervans are, for the most part,  in very bad condition.  This company has a very bad reputation in Australia. Besides being unreliable and in bad condition the campervans are overpriced. Consider, instead, going with Cheapa Camper.  They rent out used Apollo's fleets which are in excellent condition and which are very well- serviced. The rates are very affordable as well.
Insurance for Rental Vehicles
If you can, get full cover! This is especially crucial if you are traveling for more than 4 weeks as it becomes more  likely that something will happen to the campervan. In our experience,  it really is better to be fully covered and to have the peace of mind that comes with the coverage. When we handed in our Cheapa Campa, we noticed that several of the company's vehicles had been damaged. Any damage made to a uninsured rental campervan means that the driver loses their full bond, a cost that is usually over $2.000,00 AUD.
Plan a Budget
You have to know roughly how much you will spending. Think about daily budgets for food, accommodation and other luxuries. Then include a budget for petrol. The best way to do this is to roughly calculate the total distance you are planning to drive and the amount of petrol your car/camper will be using.
Set Important Milestones
If you are renting a camper or if you need to catch a flight back home, ensure that you know the exact date you need to arrive at your destination. Leave enough room to wrap things up and to be ready to leave. To get to your final destination on time, it is a wise idea to actually set milestones so that you don't need to rush to your destination at the end of the trip.
Buy Holiday Park Membership Cards
If you are traveling for a longer time period you can save quite a bit of money if you join a holiday park group. These can save you a fair amount per stay. Some of these in Australia are Aspen Park and Big4. I personally recommend Aspen Park for their low prices and excellent parks.
If your looking to go camping "downunder" then be sure to stop over in New Zealand. New Zealand in my opinion is one of the best countries for camping. New Zealand is stunning and has the most diverse landscapes that I have ever seen all packed into two islands. Do not miss out on New Zealand! Here is an article that will help you to camp New Zealand by Campervan.
Author: Jeremy Pitt
(CampTrip Team)