New Zealand by Campervan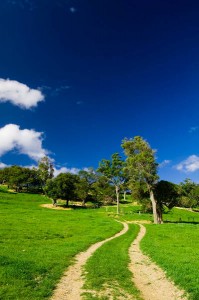 New Zealand is a stunning country of wild, open spaces, contrasting climates and varied landscapes. Its relative lack of development and sparse population means that even during the holiday season it is easy to get away from the crowds on a back-country road trip.
Camping New Zealand:
For the curious, independent traveler there is no better option than to see New Zealand by campervan. Hire a camper, equip yourself with maps and supplies, and head to wherever beckons. Taking the time to discover the remote corners of one region by campervan will reward you with unforgettable experiences.
Plan Your Route and Itinerary
If you are holiday-ing for three or four weeks, it makes sense to focus on one or two regions of the country rather than try to cram all the 'must do' places onto your itinerary. Journey times are long. New Zealand's main urban centres are connected by eight dual carriageways, and the remaining 80,000 km of roads are made up of two lane or single lane roads and un-metalled tracks. Many of the most beautiful and interesting spots are found along these winding, uneven roads. An unhurried drive can be a fantastic way to see New Zealand's river valleys and coastlines; most of the country's roads are not designed to get you from A to B at speed! New Zealand has a good network of small airports and internal air travel is good value. If you are keen to visit both islands and pressed for time it is worth creating your own package of flights plus hire vehicles – be sure to book in advance. If you need a guide on what to pack for your New Zealand camping trip here is a camping checklist for your reference.
Choosing the Right Campervan
On arrival in New Zealand it is possible to hire campervans from a variety of companies offering a range of vehicles, from the budget jeep with pull out camping cooker, to the luxury, multi-berth motor home. While it may be convenient to have all the mod cons and a lot of space on board, large RVs are not cut out for the many narrow, steep and unforgiving roads of the back country; some roads may be impassable in such vehicles. The best option is to choose from the smaller vehicles, preferably with 4WD to cope with all the mud, sand, pot holes and gradients you may encounter. Always allow about three times longer than the journey time you'd expect by looking at the map. If more living space is needed, take a tent to provide a quick bedroom without the hassle of unpacking and rearranging your van.
Campsites and Amenities
A range of camping possibilities exist in New Zealand. 'Top Ten' holiday parks have facilities such as laundries, children's play areas and television rooms, and are often located close to amenities and town centres. Many independent campsites also offer similar facilities at a lesser cost. 'Backpacker' motels and cabins often have places to pitch a tent or park up a van. For unobtrusive camping in the most picturesque and remote locations, the Department of Conservation campsites cannot be beaten. Sites range from the very basic (cold water only, no electricity) to those with standard facilities, but all are situated in areas of outstanding beauty. DOC wardens live on site during the season, and are friendly and knowledgeable. Free camping is legal and not discouraged, particularly in remoter areas, but many regional councils have banned it in the popular locations. By taking care not to wander uninvited onto farmland or Maori tribal land, and using discretion, it is possible to free camp your entire trip, breaking off every few days to stay on a regular site when you feel the need for a decent wash!
Recommended Routes:
The Far North
Drive across the sands up 90 mile beach to NZ's northernmost point at Cape Reinga and stunning, remote white sand beaches.
East Cape
Experience the lush forests and glittering lakes of the interior, or drive around the unspoiled coastline of NZ's indigenous Maori heartland.
The Catlins
Often overlooked in favour of Fiordland and Milford Sound, this area of the far south is bursting with wildlife and historical significance.
If you're looking for more campervan tips check out the article on traveling Australia by Campervan
Or read the article Backpacking Through New Zealand and more about New Zealand.
Author: Kerenza Moore
Edited By: CampTrip.com