Camping Alone With Kids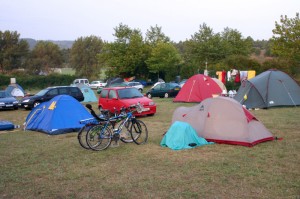 The thought of camping alone can be very intimidating, especially if like myself, you're a single woman with young children. Ideally, it is not something recommended to women new to camping. In this day and age women must be armed with both commonsense and experience when camping but in most places campers are a friendly neighbourly bunch of people who are out to become one with nature, just like you.
There are, however, some basic steps that you can follow to ensure your camping trip alone with your children is a safe and happy time. Below are a few of my tips to help you go camping alone with kids.
Stick To Official Campsites
Whether you're male or female, if you're camping alone then unless you're a hardened enthusiast who is used to the wilderness, stick to official campsites where you're going to be surrounded by others. Being out in the wilderness can be fraught with dangers anyway and especially so if you're alone where you'll have no support and you cannot easily summon help if you get injured, become sick, get lost or encounter any other difficulty.
At The Campsite
For women camping alone, the best thing you can do when you get to the campsite is to introduce yourself to the camp owner. Let them know that you are travelling alone. If they make regular patrols, ask them to make a point of stopping by your tent to check things are OK when they're passing through. Even if you like your solitude, make it your business to try to pitch your tent in an area which is fairly close by to others – preferably a family, a couple or a female group. You should go and introduce yourself too, (my girls often relieve me of this duty as they run off to explore and make new friends the minute we arrive at the campsite!) That way, you'll feel less vulnerable and you're more likely to call on them should you get into difficulty.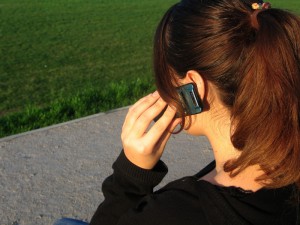 Make sure you have your mobile phone with you at all times and it is fully charged. Most campsites will let you charge your phone if needed in their office if you are camping without EHU. As soon as you get to the campground ask for the phone number of whoever is on call after hours. Save that number immediately into your mobile phone so that all you need to do is push a button rather than search for a piece of paper. This came in handy for me last season, when in the middle of the night all power was lost in the field and local area, causing a total blackout! I called the camp grounds man who came out immediately and provided me and the kids with some lanterns and reassurance!
Try to avoid walking around the campsite alone after dark. If you need to get out of your tent late at night to go to the toilet, for example, make sure you carry a torch and take your mobile phone with you and be alert to others that might also be out and about too. At this time of night, it's better to try to remain as inconspicuous as possible (difficult with my two girls who feel the need to dance in the torchlight and sing albeit quietly everywhere they go!) and to be a bit wary of engaging in lengthy conversations with others. Try to just go about your business and then go back to your tent. Carrying a personal alarm, as I do might seem extreme but will give you an added feeling of security too.
Other useful safety advice tips include ensuring that your car (if you've travelled by car) is not boxed in on any campsite so that you can make a quick getaway if you start feeling uncomfortable on a campground. And, if you have travelled by car and feel nervous, don't forget you can abandon your plans to sleep in a tent and sleep in your car if necessary with the doors locked. Being the determined camper that I am, I camped through an unexpected storm one April with my two young daughters… gale force winds and heavy rain battered my tent. I was safe in the knowledge that, if needed we could take shelter in the car but as my little ladies were warm and sleeping soundly.. We remained under our sleeping bags and in our tent until the morning! Where on waking, they had no recollection of the storm at all, but enjoyed pulling their boots on and playing in the muddy puddles behind our tent!
Keeping In Touch With Someone Back Home
Safety advice should also include letting someone at home know your plans and keeping in touch with them via your mobile phone at designated times of day. Even if it's just sending a text message, arrange that you'll call or send a text message at certain regular intervals and stick to the plan.
Finally, should you be camping alone because you can't find anyone to come with you, it's a good idea to check out camping message boards and forums as there are bound to be other women who love camping but are in the same predicament too so, not only will you have safety in numbers, you might also make some lifelong new friends with whom you can share your camping experiences.
By just following a few of these simple suggestions you'll be able to overcome your fear of camping alone and feel a real sense of achievement too! At first I was apprehensive, but now there is no going back for me since I realised that I could go camping alone and developed the camping bug! The girls and I have shared many adventures and experiences on our trips and have made memories that I hope will be etched in their minds for years to come! There's no stopping us! We work as a team, explore and visit new places together, all the while enjoying all the beauty that nature and camping has to offer.
Happy Camping!
Authour: Rosie
(The CampTrip Team)