CampTrip Easter Egg Hunt – Win a $75 Amazon Gift Card!
We have just posted a new Easter Contest for you to enter, have some fun in and potentially win some extra cash!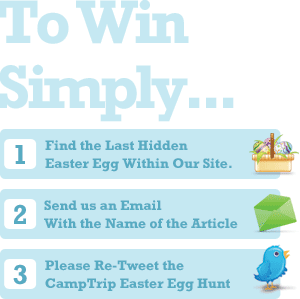 The Easter bunny visited CampTrip early this year and left eggs all over our site! We have been gradually finding them and then eating them. However, we believe there is one Easter Egg left.
We need you to tell us in which article it is hidden (it's easier than you may think) Visit the Contests page to find out more and help us find the last egg! If you find the egg you will be entered to win a $75 Amazon Gift Card which will buy you lots of Easter chocolate!
Happy Hunting!
Please Re-Tweet CampTrip's Easter Egg Hunt so that more people can participate Mention @CampTrip and the link http://bit.ly/fpuSPP
Thank you very much
-The CampTrip Team