CampTrip Easter Egg Hunt -Winner Announced!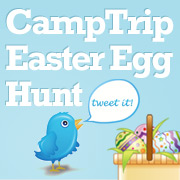 Thank you to everyone who participated in this years CampTrip Easter Egg Hunt! We hope you all enjoyed searching for that last hidden egg! We have picked a winner at random, and the winner is…. Stephanie Wilson!
Congratulations Stephanie! You have won a $75 Amazon Gift Card! Treat yourself to something special, it's on us.
Thank you all again for entering and taking part in the Easter fun. We will be having another CampTrip Easter Egg Hunt next year so we can look forward to that!
If you are looking to win more great cash prizes in the meantime why don't you take part in our Writing Contest? Share some of your camping knowledge and be in to win a Visa Gift Card up to $100!
We hope you all have enjoyed your Easter!
All the best,
The CampTrip Team