Oceanside Camping Trip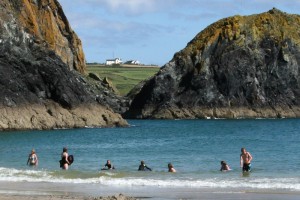 My family of 5 are avid campers. We go at least five times every summer to the beautiful mountains of North Carolina for a mountain getaway from school and work. This year I had my oldest daughter graduate high school on the same day that my baby girl turned 13 and I wanted to do something special for this auspicious occasion.
I made the mistake of asking the family what they wanted to do to celebrate this occasion, to which they replied, "Let's go camping….at the beach!"
I knew I shouldn't have asked. I don't like the beach. I have not visited the beach for about 15 years for a couple of reasons: it's hot and I am partial to my status on land as being on TOP of the food chain.
Being a democratic and fair family we put it to a vote. I lost 4 to 1. So on a beautiful Thursday morning we woke up at the crack of dawn and I found myself headed to Ocean Lakes Campground in Myrtle Beach, South Carolina, my husband, 3 teenagers, and a camper in tow. 

"My breath was taken away at how clean and beautiful the beach was…"
Upon our arrival, I was surprised at the speed of our check in after having filled most of the paperwork online. I was delighted too, at the beautiful maintained grounds! Our pitch was perfect as I did request one with a little shade. Of course, after setting up the first thing we did was go to the beach and I have to say that my breath was taken away at how clean and beautiful the beach was. I watched on as the kids and my hubby bounce around on the waves, as i sat next to the lifeguard stand just in case he needed me to spot man of wars or sharks. Hungry and tired after a long trip, that evening we bathed in the very clean and well stocked bath house and headed on over to Crabby Mikes Seafood buffet. This was the best seafood I had ever tasted and I especially enjoyed the crab legs in butter.  I think I counted over 100 items on that buffet and we certainly got more than our moneys worth with 3 teenagers at my table. My oldest daughter doesn't eat fish, but they had a fantastic salad bar, fried chicken, pizza as well as a slew of desserts.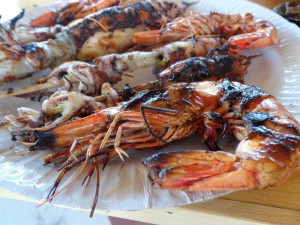 Upon returning to our campsite, we cracked open a couple of beers and talked until the wee hours of the night.
We slept very good that night listening to the surf. The following day we woke to a beautiful day and rented bicycles and tripped around the grounds. I couldn't believe how secure this campsite was. I frequently saw security patrolling unobtrusively in and around the general store, the laundromat, and through the site. We went to Bucanneer Bay and played some miniature golf and
"I had to admit I was having a good time!"
That evening we ordered pizza from the pizza parlor on the campground and it was delicious too. There was so muchto do nearby. We went to Ripleys aquarium and saw MERMAIDS and other sea creatures. However, my girls and I opted out for the guys trip to the reptile/alligator farm. We chose to stay in the camper and watch cable tv, made available through the campsite.
I was very impressed with this campground. I have stayed at many and this site, thus far, is number one in comfort, security, cleanliness and with a ton of stuff to do very nearby. So much to do in fact, you need to spend at least a week in order to take it all in. Next time, family, next time!
Author: Reginia Griffin
Edited By: The CampTrip Team