First Time Camping With Your Dog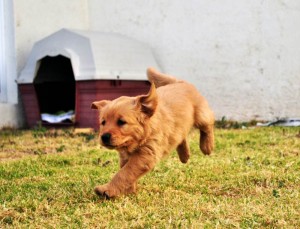 If this is your first time attempting to camp with your dog, be sure to get him familiar with camping customs (i.e. car journeys, sleeping in or near tents, long walks or hikes, etc.). As exciting as it is for dogs to go camping, it will break up their routine and throw some new things at them which they may have trouble fetching. Some dogs can become stressed, aggressive or even ill if their routine changes. It is important to get your dog as comfortable as possible with the camping idea before you go. It is also important for you, the owner, to see how your dog reacts to particular situations.
What to do With Your Dog Before You Go:
If your dog is not already used to taking car journeys, take him a on a few short trips to get him accustomed. Take him on short car trips such as when you go to fuel your car or when quickly dropping something off.
Get your dog used to being in or around a camping tent. If you know that your dog will be sleeping with you in your tent, it is probably best if you familiarize him with the tent before you go. Set a tent up in your backyard, go in your tent with your dogs bed for an hour or so each day and read a book, listen to music, etc. Try to encourage your dog to come in and join you. If he comes into the tent and sits with you, reward him or give him positive attention. If you are preparing to keep your dog tied up outside your tent at night while camping, leave your tent in the backyard and allow your dog to become comfortable and familiar with it.
Take your dog on longer walks/runs to get him fit and ready for all the outdoor activity camping has to offer. Walking through forests or wooded areas are ideal as it will get him used to the sights, smells and sounds that come with camping.
Preparing and taking precautions with your dog will help make your camping experience more pleasant for the both of you.
Read more on:
Author: Kaitlyn
(The CampTrip Team)