Find a Pet Friendly Campsite/Campground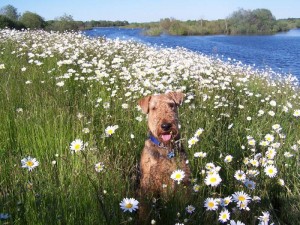 Finding the perfect pet friendly campsite requires a bit of research on your part. There are some campsites that allow pets, others allow but have restrictions and some that strictly do not allow pets. As you might guess, you will want to be sure your campsite does allow pets before you make the long journey out there; you don't want to arrive, only to discover that your furry friend is banned. Find out in advance if your campsite, cabin or trails are pet friendly.
Make Sure You Know The Following:
Is my dog permitted on the campsite?
Is my dog permitted on the trails on or near the campsite?
Are there any restrictions for my dog on the campsite or in its surroundings?
Is there a fee to have my dog stay at the campsite? (Many campsites will charge a fee)
In the United States most of the state parks allow dogs on their campsite and many also allow dogs on some or all hiking trails. Dogs must be leashed
at all times!
Dogs are normally allowed in the campsites of National Parks, National Forests and National Monuments. However, they are usually restricted from the trails.
Private campsites can vary with accommodating dogs. Some are very dog friendly and allow you and your dog a lot of access. Other private campsites are less accommodating and may only provide a patch of grass for your dog to sniff and roam. This may not be overly enjoyable for your dog.
Some Things Your Campsite will Likely Require:
Your dog has to be on a leash or tied up at all times and not be left unattended.
You take responsibility for your dog's behaviour and actions.
You respect your camping neighbours.
You clean up after your dog in the campsite and its surroundings.
Pet Friendly Campsites and Campgrounds:
Here are some great websites to help you find a pet friendly campsite in your country/area and that inform you of pet policies in your destination:
United States: Go Pet Friendly, Pet Friendly Travel, Dog Friendly
Canada: Pet Friendly Travel Canada, Dog Friendly
United Kingdom: Dog Friendly Britain, Innerwolf
Australia: Take a Break, Caravan and Camping
Worldwide: Bring Fido
It is a good idea when selecting a campsite to find one that offers shade. This helps prevent your dog from full and direct sunlight. It is also ideal to find a campsite that is near a stream or lake to give your dog an easy source of water.
Again, it is important to do your research and find a campsite that will suit you and your dogs needs. The best thing to do is to look online on the campsites website or call them up and ask the necessary questions.
Read more on:
Author: Kaitlyn
(The CampTrip Team)