Arriving at your Campsite with your Dog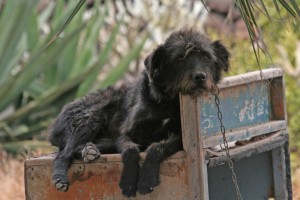 When you arrive at your campsite, give your dog some time to adjust to their new surroundings. Let them have a sniff around and assess the new situation. Take the time to show your dog the surroundings and make sure that they are comfortable before leaving them on their own. Your dog will adjust much more quickly if you are near. Once they have had a good tour around the campsite, give them time to rest and find a nice spot of shade to put down their blanket/bed
(remember to put the plastic underneath the bed to prevent it from getting wet and cold). If you tie him up, make sure he has access to shade and that he cannot get tangled around trees, poles, stakes etc.
If your dog gets extremely anxious there are several calming products available such as: Pets Prefer Calming Formula for Dogs
, or Azmira's Herbal Calm
, Calm & Relax
, or L-TryptoPet .
Read more on:
Author: Kaitlyn
(The CampTrip Team)