Giant Dutch Oven Cinnamon Roll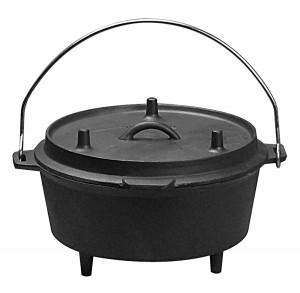 This breakfast treat is sure to be a hit with the kids! Our giant Dutch oven cinnamon roll became a favorite camping breakfast each year at our Oregon coast campouts. Ours is done in a 6 quart/10" Dutch oven and would be a generous breakfast for 6.
We use 2 lbs. of frozen bread dough (like Rhode's), defrosted; so this would be a great breakfast after the first night camping! Generously coat the inside of your Dutch oven with shortening—don't forget the inside of the lid! I have to admit to trying to get 2 ½ to 3 lbs or dough in the Dutch oven on a couple occasions—so just trust me and stick to only 2 lbs. unless you like a little ash on the edges of your cinnamon roll as it bursts out of the pan.
The kids will like helping with the next part. Lay out a sheet of tinfoil or anther clean working surface and roll the dough into a giant 'snake'. You can give all the camping kiddos a section to roll-just try to keep them similar thickness. Coil your 'snake' loosely in the bottom of the prepared Dutch oven, leaving a space between rounds. Spread softened butter on the sides of the dough and sprinkle like crazy with a cinnamon and sugar mixture. Let rise with the lid on for about 30 minutes or until almost double. Bake at 325 degrees with briquettes-no hotter or the inside will be doughy while the outside burns. Bake for 50-60 minutes or until nicely browned. Slather with frosting and don't forget the mugs of hot cocoa. Unforgettable!
If you decide to downsize (or, heaven forbid, upsize) the cinnamon roll, adjust your briquettes
and time accordingly.
Warning: This recipe has been proven to be addictive!
Author: Shari Woodbury
Edited By: The CampTrip Team