How to Enjoy Campsite Cooking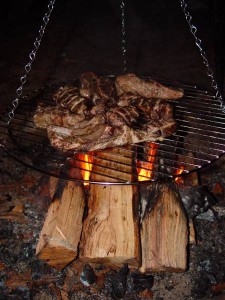 Something magical happens when you are camping, apart from creating lasting memories with family and friends; your appetite grows and your enjoyment of food increases tenfold. It is partly because your senses are aroused by the sounds, smells and sights of the outdoors, but it is also down to the fact that you have escaped the kitchen and therefore, eating simple foods matches your resouces.
You don't need a lot of money to eat like a king (or queen) while you are camping. You just need to avoid stocking up on ready meals and instead to arm yourself with a decently stocked storecupboard, a few fresh ingredients from the local shops or farms and a little inspiration to throw together a brilliant meal. With love, imagination, enthusiasm and the odd glass of wine, the cavewoman (or caveman) inside you awakens and every camping meal becomes a feast!
During the summer months, eating outdoors is the highlight of our camping trips and food somehow always tastes better after a day in the fresh air. I normally erect a gazebo just outside the tent, to provide a handy communal area for the girls and I. It gives us shelter from the rain or sun and a great space to eat under or chat and enjoy a drink in the evenings with fellow campers.
There is a huge range of cooking equipment available, from individual gas stoves and disposable barbecues; to top of the range gas powered portable barbecues that are capable of cooking for the whole family in one go! The main thing to remember is to choose your equipment based on the number of people you are cooking for – an individual gas stove will not be sufficiant for a family feast!
So, you want to know how to enjoy campsite cooking? Try to plan a few meals before you go away, this way all meals can be sorted in advance so all that's required are a few clever storecupboard ingrediants and maybe some fresh and frozen items taken from home, combined with freshly bought local produce each day. All that's left is to cook, eat and most of all… enjoy!
Equiment Essentials:
Grater
Washing up liquid.
Tea towel
Kitchen roll
Dishcloth
Salt & Pepper
Cutlery
Wooden spoons
Bag of charcoal
Aluminium foil
Clingfilm
Greaseproof paper
Sharp knife
Corkscrew
Chopping boards
Shallow pan
Folding camping toaster
Small non stick frying pan
Mugs and plastic glasses
Barbecue tongs
Heatproof bowls
Pocket knife
Potato masher
Skewers
Eggcups
Serving bolws
Plates
Pots & pans
Cool box
Cooking with Gas
The simplist way of cooking in while you are camping is on a basic gas stove. You can choose from a basic one burner version, that uses a small gas canister and is perfect for boiling a kettle or heating a tin of beans or soup in a saucepan.
A camp cooker will offer you a little more versatility. They are collapsable with either two or three burners and usually a small grill and wind protection around the sides. These camp cookers are suitable for a wide variety of meals and a great choice if you are camping with the family.
If like myself, you are a serious camper and you are often away for more than a weekend then it may be worth investing in a 'camp kitchen'. This is a purpose built stand on which your gas stove or cooker can be stored along with plenty of shelves and storage underneath for all your foood and equipment.
Cooking on the Barbecue
Disposable barbecues are inexpensive, making them perfect for one or two nights away. These are ideal for cooking a small breakfast or an evening meal. Many disposable barbecues come with a custom made stand to hold them above the ground, which prevents the grass from scorching.
If you want to use a charcoal on your barbecue, then there are plenty of reasonably priced barbecues which can be quickly assembled, including my favourite; the bucket style barbecue. These are cheap to buy, with folding legs for easy storage and are ideal for cooking a range of foods such as sausages, steaks or fish, whether it's on the campsite outside your tent or on the beach. They heat up quickly and retain the heat, making them small but brilliantly efficient.
If you want to spend a little more, and have the space, gas powered barbecues are extremely efficient as well as being easy to use and clean. They have the added benefit of providing instant heat if you need to eat in a hurry. Gas barbecues are hugely versatile and are ideal when cooking for large numbers of people.
Whatever your needs and choice, try and buy from a reputable dealer where you should be guaranteed a quality appliance that will last years.
Cooking over the Campfire
Cooking over the campfire is perhaps the most idealistic vision of cooking in the outdoors. In reality, it is a little more tricky, as some campsites do not allow campfires and you cannot adjust the heat source as you would on a gas stove. With this in mind, it is however very hard to beat the taste of food cooked over a campfire. Adding flavoured wood chips will give your food a smoky or spicy taste.  And marsmallows, which popped on the end of a skewer and toasted around the campfire as night falls will always delight, no matter what age! A must for every camptrip!
Campfire cooking requires a clean burning hot fire. This can only be achieved by using dry, seasoned wood, if the wood you use is damp, your fire will be smoky and will burn poorly. If conditions are favourable, a camping grill rack or griddle placed over your fire will cook your food to perfection. Cooking over the campfire requires constant attention to ensure the food does'nt catch fire (trust me, i have learned from experience!)
Also, be sure to wait until the fire is begining to die off before you start cooking, otherwise the heat will be too strong. If your campsite permits campfires, make sure the fire is fully extinguised before you leave it – and on a practical note, make sure that you do not light it too near your tent!
Happy camping!
Author: Rosie Austin
The CampTrip Team