Cooking With Tin Foil Camping Recipes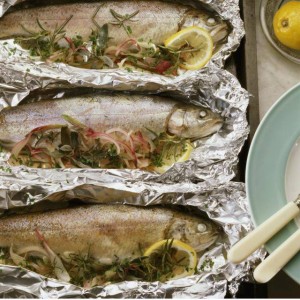 Tin Foil might seem an odd title for a camping article but it is my best friend when camping.  It's so versatile, I have found several ways tin foil can be of use:
You can keep left overs  in it
It helps keep the milk cold
It keeps the kids occupied for hours inventing and modelling stuff
But best of all it can be used for cooking, negating the use of pots, pans and best of all washing up.
Here are a few cooking with tin foil camping recipes, backwoods style:
Cooking with Tin Foil Camping Recipes:
Meat and two Vegetables:
Dice a few of your favourite veg including the potatoes (1cm square cubes are ideal). Make an open ended pouch from tin foil, add the veg, minced or finely chopped meat, gravy or sauce granules and a dash of water.  Seal the bag and cook on an open fire or BBQ for 10 – 15 mins – test product is piping hot, grab a fork and enjoy.
Fish:
For this camping recipe place the fish in the foil with slice of lemon, salt and pepper and anything else you feel goes well with fish.  Add a little water and place on fire/BBQ until cooked.
Bananas:
Place in foil,  add sugar and drop of water or some toffee sauce and place on fire/bbq for 5 mins – yum yum.
Experiment
Experiment in using the foil pouches (our favourite is baked beans with cheese and chopped sausages). Also, get the children involved, ours love it. The best bit of all is after enjoying a hearty meal you can sit back and relax – with no washing up!
And that's why I love cooking with tin foil! Enjoy!
Do you have any cooking with tin foil camping tips or recipes? We would love to hear about them! Please enter your suggestions in the comment box below. Thanks!
Read more on Camping Recipes.
Author: Michaela Forty
Edited By: CampTrip.com