Choose a Camping Location Right For You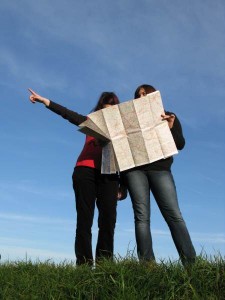 I thought after the age of eighteen that my camping days were over. I have since thought  about going on another camping excursion. One of the main reasons for this change of heart is the practical aspect of camping. In this economy you can travel with your back-pack, tent and poles, food and provisions and some sort of reliable transport and you are ready for your adventure at very little expense. For your new adventure in camping, ensure that your checklist is adequately filled out, such as disposable personal care items, bug spray (depending what time of year and location), adequate change of clothing, comfortable but sturdy footwear, packaged ready-to-eat foods in clear plastic bags. Here is a complete Camping Checklist you may use as a reference.
Camping Location, Location, Location
Choose a camping location right for you. The location of the campsite can vary depending on your needs – once again showing the versatility of camping. The levels of camping can range to very basic (some might say extreme) to very luxurious. You can go backpacking/tenting and find a place to settle down for the night and be  in the middle of nowhere having only the facilities that nature has to offer.
Campsites and Campgrounds
There are varying ranges of campsites/campgrounds; some are quite minimalistic with a designated place for you to set up camp and will usually provide some basic toilet facilities.
Other more extravagant campsites/campgrounds will provide a designated spot which may include a  water faucet on site where you can connect water to your RV. They may also include a power outlet on site so you can connect to  power and have electricity. These campsites/campgrounds will also offer a decent toilet and shower block allowing you to wash regularly. These more established campsites/campgrounds may also have things like a pool, playground, small store, laundry, game room, etc. It all depends on what you are looking for and how much of  a " Camping" experience you want to get out of it.
Budget Hostels
Hostels are also a great way of traveling cheaply. If you are looking to go camping,  some nights you may camp in the wild or at campsites, but maybe every once in a while check into a hostel and sleep in a bed, have a shower and do your laundry. Hostels can range from costing anywhere from $10- $30 depending on the hostel and room you choose. Hostels can be found all around the world; they are cheap accommodation and they are usually very good value for money. Most hostels are well kept and will leave you with a very enjoyable experience. If you go in and do not expect a 5 star hotel you should be pleasantly surprised.
It is always good to have at least one traveling companion to further enjoy the camping experience; carry a disposable camera as a reminder of your camping experiences. You can explore and camp/travel overseas or you may just want to stay close to home and camp. There are usually tons of camping options so just have a look in your area and decide what level of camping you want and just be sure to choose a camping location right for you.
Finally, remember to have a positive and safe experience as you start your camping extravaganza.
Author: Beverly Dickerson
Edited By: CampTrip.com