How to go Horse Camping – What You Should Know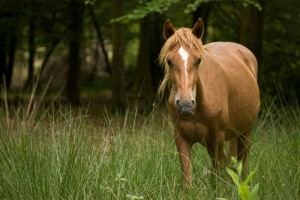 Going camping is the great American past time. There's nothing better than escaping the confines of the city and hitting the great outdoors for a little fresh air, space to breathe, and adventure. And, if you're a horse lover like me, bringing your horse along for some beautiful trail riding can only increase the already abundant joy of camping.
First Time Horse Camping:
But taking your horse camping means there are extra precautions to take and plans to make. Hitting the trail with my horse the next day totally makes up for the extra burden, even on simple overnighters, but it's my responsibility to care for the health and comfort of my horse, and it's not something I take lightly.
If you're thinking about taking your horse camping with you for the first time here are some things I always plan ahead for and make sure to take with me.
Before the Trip:
Planning is the name of the game when it comes to camping with your horses—especially if you're new to it. If your horse is a veteran then obviously there's less to prepare for. But it's always important to be prepared for any eventuality, including accidents.
Here are some considerations you should be thinking about before you trailer your horse and chase adventure.
• How comfortable is your horse traveling
• What condition is your horse in – be honest
• Where are you camping, and how far will you be riding your horse
• How long will you be staying
• Is your horse sensitive to change
• Will they drink water from different sources
• Are there experienced friends who will go camping with you – share the fun!
• Trailer size – will you be able to take everything you need, including food, water, and supplies for both you and your horse
Basically try and think of anything that might prove to be an issue once you're out in the great outdoors. The more you can plan for, the more prepared you will be.
Reasonable Tips:
Taking your horse camping the first time is an amazing feeling. Leaving behind all the old spots and going out to explore somewhere new on the back of your horse is the very definition of American adventure. For those taking their horses camping for the first time however, there's an extra need for caution. Here are some general rules I'd recommend for those new to the practice.
• Use only well-established horse camps.
Remember that although camping is fun for you, it's often stressful on your horse. Especially if they've never done it before. So, make sure you're using well established horse trails, with facilities specifically designed for them.
• Bring an experienced friend, at least the first time.
Bringing a friend camping is always a good idea. There's more fun to be had, less individual responsibility, and someone to share the memories with. And, if you're going out camping for the first time with your horse, you really ought to bring a more experience friend along.
• Keep it short, and close to home.
I recommend for anyone taking their horse camping for the first time to only plan for an overnighter. This reduces the overall stress on the horse, the need for substantial supplies and plans, and means you'll be closer to home. It serves as a 'test run', which is only reasonable.
• When in doubt, err towards caution.
Sometimes it isn't meant to be. I've been on countless camping trips where plans had to be adjusted for one reason or another. It's sort of the nature of the beast here – taking a horse along only complicates the process. So, if something does come up, always err on the side of caution.
List of Supplies:
Lastly, I'd like to leave you with you a list of general supplies you'll need on an overnight camping trip. These are general items as well as a few that I've found to be necessary, as well as a few nice-to-have-in-case items. So, here we go:
• Water trough/tub
• Mineral block
• Hay
• Hay nets/portable feeder
• Grain bucket
• Treats
• Extra tack
• Grooming caddy
• Bells
• Horse blanket
• Leather punch
• Portable corral
• Picket line
• First aid kit
• Crops
• Cross ties
Basically, bring everything you could possibly need. If you really need it, bring two. Make sure they have plenty of food and water, shelter for the night, and everything for a trail ride in the morning.
Taking your horse camping is an amazing adventure. You get to see new country, strengthen your bond with your horse, and create great memories. But remember, you have a responsibility to protect and care for your horse. Camping the first time can be a stressful event, so make sure you're well prepared. Happy trails!
Author: Matt James
Edited By: CampTrip.com
Matt James is an avid outdoorsman and a lover of all things horse. He currently writes for the quality horse trailers supplier doubledtrailers.com.