Using a Storm Kettle When Camping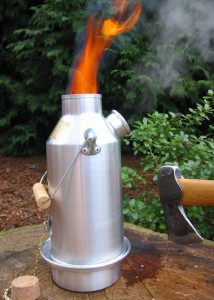 Otherwise known as a kelly kettle or gypsy kettle the storm kettle is a flask-shaped double-skinned kettle. Because of its design the water inside is exposed to a large surface area of heat. Below I will share with you why storm kettles are ideal for camping and how they are best used.
Storm Kettles are Perfect for Camping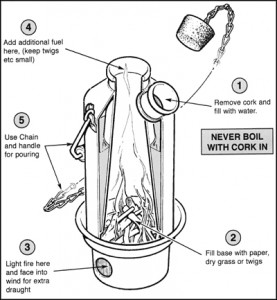 You can use this like any conventional gas-top kettle on your camping stove. However, best results are obtained on windy days over a camp fire, or better still over it's own little fire tray (supplied with the kettle). Whereas a traditional camp fire aims for large logs that burn slowly, the storm kettle works best with a 'quick burn'. Newspaper, dry twigs (twigs, not sticks) and leaves, cardboard etc. We often burn our combustible rubbish (cardboard tubes, old tissues) on it, therefore getting rid of our rubbish AND making good use of the energy. On a breezy day with dry twigs or newspaper we have boiled 1.5 litres in less than 3 minutes.
Using a Storm Kettle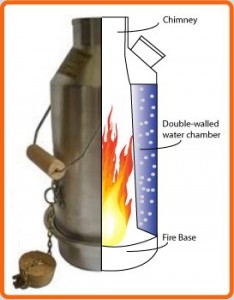 The kettle comes with a cork on a chain. The cork is only for use in transporting water in the kettle so water doesn't get sloshed everywhere. Make sure it is removed when the kettle is over the fire or there is a risk that the cork will fire out, or the seams of the kettle will weaken and boiling water will leak out under pressure. Always ensure the kettle is on a flat surface. They tend to be wobbly at the best of times, particularly the larger designs. When 'feeding' dry twigs down the inside mind your knuckles as the flames can get exceedingly high! Also worth letting the fire burn down a little before taking the kettle off of a fire. There is a knack to swiftly removing the kettle without losing the hairs off the back of your knuckles, it takes practice!
There is also a knack to pouring from it: hold the wooden handle in one hand and lift gently with the cork chain. Practice while it has cold water in it and you'll soon find you can aim quite well when it comes to pouring boiling water!
Storm kettles require little maintenance. Not surprisingly they get quite sooty if you use them on campfires. We keep ours in a small canvas shopping bag to stop the soot transferring to all our other camping gear.
Author: Nichola May
Edited By: CampTrip.com