The Importance of Good Hiking Shoes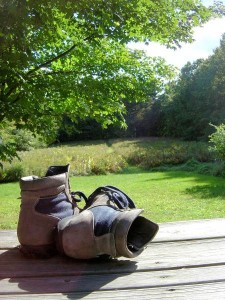 Quality hiking shoes or boots
are one of the best things you can add to your arsenal of camping equipment and gear. I found out first-hand just how important they can be. Below I will share with you the importance of good hiking shoes.
Hiking Boots are Called Hiking Boots for a Reason
Some friends and I decided that we were going to do a day hike out to the bridge to nowhere in Azusa Canyon, California USA. I wore a pair of low cut tennis shoes that were comfortable. After we were about 4 miles into the canyon, I was hiking along a ridge and rolled my ankle on some loose rocks…and snap (there went the ankle!). Needless to say, the low cut shoes that I was wearing offered no ankle support whatsoever. So, there we were 4 miles from civilization and I couldn't even stand! Had I been wearing a pair of good hiking shoes or boots geared for hiking, we would have never been in that predicament.
Hiking Shoes are the Best Investment When Hiking
On top of that, a good quality pair of hiking shoes will help keep your feet warm, wick away moisture and make for a much more enjoyable hiking experience. When hiking, we rely on our feet and ankles to keep us upright and moving. Be sure to take care of them with good foot gear! Here is a great selection of the best rated men's hiking boots
and women's hiking boots
so you can avoid a disaster like mine and enjoy your camping trip with proper foot wear.
Author: Brian Wilkinson
Edited By: CampTrip.com