Prepare When Hiking for the Unexpected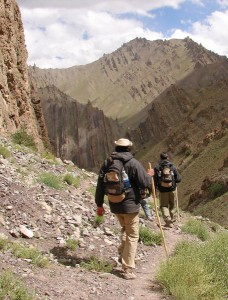 Several years ago, some friends and I went hiking for the day in the local mountains.  There was 5 of us, and our plan was to park one car at the bottom of the mountain, and the other at the top, that way we could start our hike at the top, and have an all downhill hike to the other car, down the canyon about 3 thousand feet in elevation change. This was supposed to be a day hike, as we had planned to make it to the car at the bottom of the canyon by dark.
Washed Out and Worried
As this was to be a DAY HIKE, we ate our lunch in the shady trail camp, stopped often, took our time, and were just about on schedule to make it to our waiting car at the lower trail head by dark, less than 2 miles away.
While hiking along a narrow trail along the steep canyon wall, we rounded a bend and noticed that the trail we were walking on was completely washed out. There was no way around this washout and the river was at least 100 foot drop below us.  And the sun was dropping fast.
There was no way we could continue on to our car. So, we all headed back to that trail camp that we had had our lunch, several miles behind us. We made it to the trail camp by about 10:00 p.m. the time that we told family members that we would be home. We got a fire going and got warm but were running out of energy. We had a Type 1 diabetic with us, another with heart problems, and one who has had 3 brain surgeries and is disabled. Two of them had not brought extra medication.
The Long Hike for Help
We knew that somebody would have to get out of this canyon and tell family we were ok. As well as to bring food and meds to the others. So myself and my buddy, started the tough hike back up the canyon several thousand feet. As we made it to the vehicle by morning we were exhausted. We drove down to a phone and called my mom. She had already called the Forest Rangers and they were going to wait 24 hours before doing a search and rescue.
This next day we were able to get some food and water and hike our way partially back down the canyon where we met back up with the group and made the long slow hike back up the mountain again. We were all exhausted. What was supposed to be a simple downhill day hike, became a 2 day ordeal.
Since that hiking trip, all of us always prepare when hiking for the unexpected when we head into the mountains.
Author: Adam Montgomery
Edited By: CampTrip.com