Camping Activity Boxes for Kids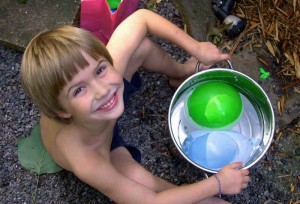 Our four children absolutely love camping!  We never need to look for special campgrounds or environments. I always make sure to pack some special activities for the kids to play with while we adults have time to relax and enjoy ourselves too.
Camping Activity Boxes for Kids:
Our kids have come to look forward to "Mom's Camping Activity Boxes". I use plastic storage boxes of various sizes and fill them with a variety of items. We have three portable  boxes:
The Texture Boxes
We have some boxes filled with either rice or sand and then another box filled with an assortment of measuring cups, spoons, funnels, sieves shovels, etc.
The Art Box
The art box is filled with crayons, felt pens, paint, stickers, paper, scissors and any other creative materials that I might find.
All four of our children, ages 3-12, stay joyfully entertained by the Camping Activity Boxes day after day.  Since they are outside playing with them, it doesn't matter if some of the contents overflow onto the ground.
When we get home, the Camping Activity Boxes are put away until our next camping trip.  Without them knowing, I may add some new toys to the boxes so that the next time we take them out camping, they seem new and exciting to the children.
Author: Carlotta Wolf
Edited By: CampTrip.com