How to Survive your First Camping Trip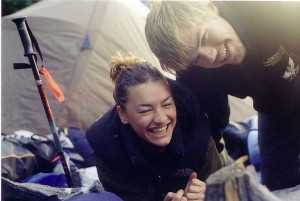 These tips from a fellow female first-timer will help you learn how to survive your first camping trip:

At some point in your life, you will find yourself standing in the rain, in the middle of a field clutching a bowl of partially cooked baked beans and wondering what you're doing with your life. Whether it's because your family want to 'get back to nature', or your partner wants to see what you're really like, or just simply because you felt like doing something slightly outside of your comfort zone, you will end up on a camping trip, and I warn you…it will be an experience like no other.
I remember my first time clearly.  Waking up in a semi-collapsed tent, finding out that what my boyfriend called "toilet facilities" really meant a bush and a loo roll, and discovering the difference between waterproof and water resistant (the hard way.) I didn't know about camptrip.com at that point, but if I had, it would've saved me a lot of trouble, and certainly ensured I had more fun; which is, after all, what camping is supposed to be about.
Here is a list of the basic things you need to have some knowledge about before you go camping. You don't have to be an expert, but to more you know, the more enjoyable your trip will be.
Food
Food, glorious food or not, as the case may be. On my first camping trip, I insisted on bringing bags and bags of dried pasta, under the illusion that I'd be able to spend a long time cooking the food for my four fellow travellers and myself. It was not the case. If you're only camping for a few days having to carry dried pasta is a waste of time, because not only is it heavy, but it also takes twenty minutes to cook two portions in a Trangia. That's time you could better spend admiring the sunset, or protecting yourself against the mosquitoes (see below). Instead, think about getting some ready-made meals you only need to add water to. That way, you can boil the water all in one go, and eat at the same time, which is a much more sociable way to do things.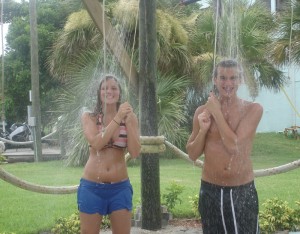 Shower Facilities
You're going camping. You're lucky if the campsite you're staying in has a toilet at all, let alone washing facilities. However, if I know the site I'm going to is equipped, I always bring my swimsuit, because you never how public the showers are going to be. What's more, bear in mind that hundreds of people have used the shower before you, and probably hundreds will use it after you, so no matter what state you find it in, keep it clean for the next person.
Tent
Contrary to popular belief, putting up a tent is not rocket science. You don't need to be a six foot four burly bloke, either. However, if it is your first time and you're going with fellow first timers, I would advise testing out the tent before leaving, just to make sure you have enough tent pegs and the poles are all still there. There's nothing worse than arriving at a campsite on your first night, only to find you have nowhere to sleep.
Once you know you have all the equipment, it's time to get it set up. Most modern tents- or at least all the ones I've tried recently- are color coded, to show you which pole goes in where. Make sure all the poles are in place before pegging it down. As for the guy ropes, stretch them out and peg them in perpendicular to the 'wall' of the tent. Before you go to bed, tighten each one so you aren't woken up with the sound of the wind rattling on the sides.
Choosing a place to set up your tent is considered by some to be a science, but if you're only staying for one night, I wouldn't listen to all the myths. Just make sure the ground is flat, and if you can, place it facing into the wind. Oh, and I never cook within two meters of the tent site either, but that's just a personal take on health and safety.
Bugs
You're sleeping outdoors- of course there are going to be insects. In the height of summer you'll be plagued with them, so treat yourself and buy a decent bug repellent. Also, shut your tent whenever you can to keep the pesky pests away.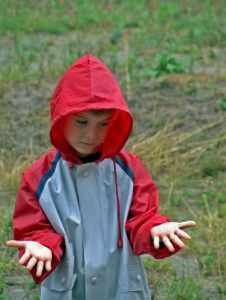 Clothes
I cannot stress this point enough- CHECK THE WEATHER FORECAST. Sure, it won't be completely accurate, but it might save you from sweltering in the sun, swaddled in all sorts of knitted wonders your Nan made; or even worse, freezing your fingers off because you didn't know it was going to be cold and wet (although if you're camping in Britain and you don't bring a waterproof/pac-a-mac, you almost deserve to be rained on.) Plus, no matter how fashionable you look in your designer jeans, they probably won't be hugely suitable, especially if you're going to be walking. Camping isn't a fashion contest, and the sad truth is that if you're dressed up to the nines in your best clothes, the hard-core campers* may judge you poorly. Keep your trendsetting to days when you aren't likely to ruin your clothes, and opt for something comfortable.
*A hard-core camper is someone who does it regularly enough to know all the tricks of the trade. Every campsite has one, and you'll be able to spot them pretty easily based purely on the fact they'll have all the latest equipment, the nicest food in the area, and the most relaxed attitude. Although I've met some very pleasant hard-corers, there are a some very judgmental people out there, so don't be hurt if they say you're doing something wrong- they have a lot of experience, so it's probably best to listen to what they have to say, even if you completely disregard it later. Camping is meant to be enjoyable, and a rough first experience could be enough to put a person off for life. However, a good first experience will set you up for an entire future of fun in the outdoors. It's not for everyone, but you'll never know unless you give it a go, so good luck and happy camping!
Author: Emilia Symington
Edited By: The CampTrip Team