Using Your Watch as a Compass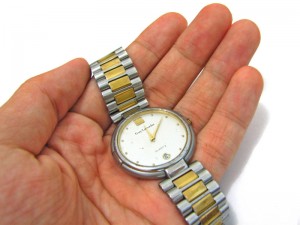 When our Border Collie/Sheltie mix, Keegan and I head off the pavement for adventure, I always carry a handheld GPS along with a compass and a map, so here's a word of advice: learn how to operate your GPS before you go out in the wilderness and know how to use a compass and a map. If you do not know how to use those items, they will be useless to you. Using your watch as a compass is easy, here i will explain how.
It is interesting when I am hiking with Keegan, he always knows the way back. With his nose it is like having a cartographer with you. We were on day 2 of a 3 day backpacking trip in Mark Twain National forest. My daughter and I made camp a little early; we dropped our packs and took Keegan's pack off as well. We decided to do some exploring and took off for a late afternoon hike. We ventured off about 4 or 5 miles from camp and decided it was getting late so we turned back. While making our way back to camp Keegan stopped and sat at a split in the trail. We didn't notice that he was not with us for about 25 yards (he was off leash). I stopped to see where he had gone, I turned around and there he was, sitting quietly at a fork in the trail. My daughter and I walked back to him and  discovered we had passed by the trail we took earlier. This was the spot where we had to cross the stream to go back to camp. We were very glad Keegan's nose spotted our error, if he hadn't we could have easily been lost. We left our map, compass and GPS at camp.
If Keegan had not of been with us and we were lost without any of our gear, would you know how to find north, south east or west? For those of you reading this that rely on your cell phone for the time, go buy a watch!
Using your watch as a compass is fairly easy.
Just follow a few simple steps; it might save your life one day.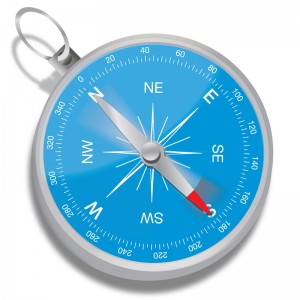 STEP 1: Adjust for daylight savings time:
If the time zone that you are in is currently on daylight savings time you must adjust this to standard time. Daylight savings time in the summer half of the year is always an hour ahead so you must take off an hour. So for example, if you are in the USA in July your clock has been put forward (Spring forward) so you must take off an hour to get standard time. In winter months you need not adjust the clock.
STEP 2: Get the watch face:
If you are using a digital clock or watch to ascertain the current time, draw an analogue clock on a piece of paper (or something that you can move around) which shows a clock face telling your standard time (the time that you may have adjusted in Step 1 above).
STEP 3: Align the watch with the sun:
Point the hour hand towards the sun. If it is overcast you can often get the sun's direction from shadows (it is in the opposite direction to the sun's shadow).
STEP 4: Find North and South:
Take the center line between the hour hand (which you have lined up to the sun) and the 12 o'clock position on the clock face. This line is now pointing south if you are in the Northern Hemisphere and north if you are in the Southern Hemisphere.
It is as simple as that!
Author: Dale Smith.
Edited By: The CampTrip Team