Top Spooky Campsites to Visit on Halloween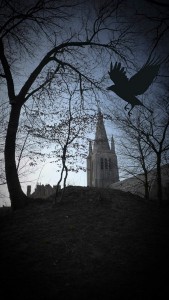 There is a reason why people like to gather around a campfire to tell scary stories. Stories are even spookier when they are told in the right atmosphere. Taking a trip to a spooky campsite can help get your entire family into the Halloween spirit. Whether you take an RV and set up camp for a few days or stop by for an afternoon, these trips will be fun and educational for the entire family.
Depending on the age of your family members and what their level of tolerance is for being scared, here are some of the best campsites for Halloween fun. The destinations below are listed from the least scary to the scariest so that you can plan your trip to meet your family's needs.
Top Spooky Halloween Campsites in the USA:
Gettysburg Battlefield
The Gettysburg Battlefield in Gettysburg, Pennsylvania is more than just a land full of rich history. Since so many people lost their lives in this battle, Gettysburg is said to be home to several ghosts. There are haunted walking tours that teach visitors history while mildly spooking them with tales of ghosts from American history. These tours aren't too scary, so even young travelers can enjoy this trip.
Sugarloaf Key
Don't be fooled by the tropical atmosphere of Sugarloaf Key in Key West Florida. There are many kinds of frightening fun to be had here. Families of all ages can enjoy the stories of haunted swashbucklers and pirates. For the braver souls, take a trip to see Robert the Doll, the toy that inspired the Chucky movies. Local legend claims that Robert was cursed by voodoo and used to terrorize the child who he belonged to.
Lone Pine Campground
Within the Inyo National Forest in California lies the Lone Pine Campground, a campsite with a truly terrifying tale to tell. The story states that Sam Lewis and his wife used to go to the grounds with their herd of sheep in the 1900s. Since it was Mrs. Lewis's favorite spot, Sam scattered her ashes there upon her death. Modern day campers often claim to see Mrs. Lewis's ghost dancing or hear her singing. Some awaken in the morning to find their gear has moved or scattered in the night. Don't believe it? Take your family there for a night and find out for yourselves.
Bottomless Lake State Campground
For families that prefer their paranormal visitors to be of the otherworldly variety, Roswell, New Mexico is home to a lot of mysterious fun. The Bottomless Lake isn't literal, but UFO spottings are very common in this area. The nearby Area 51 is a family-friendly Halloween destination with plenty of fodder for your imaginations.
Harold Parker State Forest
Since witches are such a big part of Halloween, where better to drum up some frightening fun than Salem, Massachusetts? Harold Parker State Forest is right next to a town that hung 19 alleged witches in the 1600s. The Salem Witch Trials are a scary part of U.S. history. An overnight camping trip to Harold Parker State Forest is the ultimate end to a day spent among the ghosts of alleged witches.
Supernatural campsites can help get anyone ready for some Halloween fun. These trips can be educational and as bone-chilling as you'd like. Brave souls can revel in all of the gory details while the innocents go for a tamer, sugar-coated version as sweet as Halloween candy. Make your Halloween full or tricks and treats with an eerie camping trip.
This post was sent in by Joe Schembri from Tampa, FL. Over the years, Joe has traveled with his family in everything from pick up trucks to RVs. He enjoys camping and can't get enough of the outdoors.
Author: Joe Schembri
Edited By: CampTrip.com