On the USA Border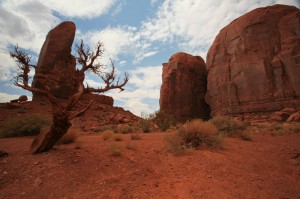 In 2007, I had the pleasure of working for the Southwest Conservation Corps, based out of Tucson, Arizona USA. For three whole months I worked and camped throughout the Arizona desert on the USA border. Our small team of eight people would pitch tents for 12 day stints. We got to learn a lot about each other, ourselves, and the harsh, yet beautiful, desert during that time.
Discarded Past, Hopes of a Brighter Future
My most memorable camping experience from my Youth Corps days was that of the time we were camped out on the USA border, near the border of Mexico. Our mission was to clean up trash and belongings left behind by the many Mexican citizens who had passed through the desert border area. Throughout the heat of the day we collected people's lives: backpacks filled with coin purses, children's toys, jugs upon jugs of water and horchata and piles of clothes. Basically, whatever was too much of a burden to be carried on their long journeys, people left behind for us to find.
At night, we took turns cooking food from the rations our company had provided for us. Most days I was too tired to have much of an appetite. I remember craving salty food and lots of water. We shared stories around a campfire and retired to bed early. The long, hot days made for deep, contented sleep. Some of the best sleep of my life I had in that tent in the desert. The only thing that kept me from falling into slumber was the fear of the area we were in. As it was a popular border crossing zone, heavily trafficked, especially at night when the desert was not so cruel, I could often hear the footsteps of people scurrying along outside, making their way across vast land in the hopes of a better future. I prayed I would not receive any nighttime visitors and focused instead on the howl of the distant coyotes.
Author: Mallroy Porshnev
Edited By: CampTrip.com