The Best Camping Gadget:
Amazon Kindle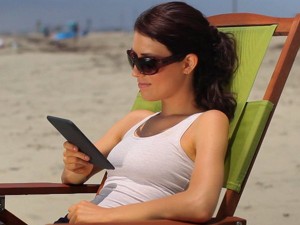 The Amazon Kindle
has forever changed the way we read books. If your asking yourself, "What the heck is a Kindle?" don't feel bad. There are still those of us who live under rocks. With all of these new gadgets popping up out of nowhere who can keep up!?
The Amazing Amazon Kindle
No, the Kindle is not firewood. The Amazon Kindle
is a device where you can download up to 3,500 of your favorite books and have them all in one convenient place! The online Kindle library offers over 270,000 books to choose from. You can find all the books you are looking for. It's a one stop shop!
Now you are beginning to see just how genius this gadget is… but wait, it gets better. The Kindle is great for anyone who loves to read, but it is especially perfect for ALL campers who enjoy a good book. That is why we are going out on a limb and claiming that the Amazon Kindle is the best camping gadget.
The Best Camping Gadget of 2011
Do you like reading a good book while on your camping trip? Have you ever had trouble deciding which book to bring while packing? Do you get frustrated with how heavy books are in your luggage and how much space they take up?
I am sure you are familiar with this scenario. These problems are now solved. Buy a Kindle.
Why you do not
want to leave without it:
All books in one place (Latest novel, kids books, guides etc.)
Lightweight and thin ideal for travel. (Only 8.5 ounces, weighs less than a paperback!)
LONG Battery life! A single charge lasts up to one month!
No chargers and cables
Durable protective casing
6″ screen with no glare read in direct sunlight
Perfect contrast screen giving your eyes a comfortable read.
Want to know more? Read more…
The Kindle is Amazon's #1 bestselling item for two years running. It also has the most 5-star reviews of any product on Amazon.
The above reasons are why I recommend the Amazon Kindle
as the best camping gadget to any book lover, especially to all those who get out and enjoy the outdoors.
Don't have a Kindle yet? Why not?
Get an Amazon Kindle
now!
Have a Kindle?
Share you experience and let us know what you think about the Amazon Kindle. The community would love to hear from you.
Author: Kaitlyn
(The CampTrip Team)