Camping For Dummies Contest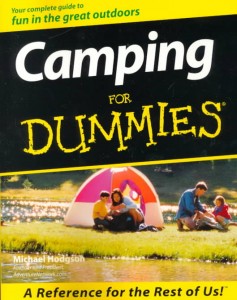 Hello fellow campers!
So, the camping season may be coming to an end where you are but here on CampTrip we talk camping 24/7 365 days a year. We have come out with yet another great and easy contest for you to enter.
Camping For Dummies Contest
We have teamed up with Sharon from Real Life Deals and Hobbies on a Budget to bring you a doublely awesome prize.
The Prize:
Camping for Dummies book
$20 Gift Card for Amazon
Sweet! How do I Enter?
Look below and click on one of the following boxes ie: Like CampTrip on Facebook
Like CampTrip on Facebook
That's it. You've entered!
The more times you enter the more likely your name will be drawn.

We will randomly select an entry on the end date and close the contest Oct 31, 2011.

The winner will be notified and sent their prize.
Extra Bonus: If you enter our writing contest and click the "Did this" option on this page you will receive five entries towards winning the prize.
Good luck!