When the Camping Season's Over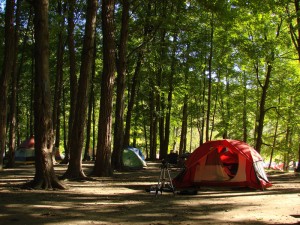 My tent is now in storage, carefully packed away,
The outdoor nylon shelter lives to see another day!
Now the camping season's over and the winter nights draw in,
The guy ropes, pegs and mallet; cleaned and dried, stored in a tin.
I begin to think of next year and the adventures I will have,
New places I will find to camp, with the help of my Sat Nav!
Campsites across the country I have yet to explore,
My great sense of adventure always leaves me wanting more.
There's a few things i'll do differently, like the way I load the car,
And to make sure I pack the telescope for when we chase the stars!
The camp kitchen I will rearrange and leave some stuff behind,
As long as marshmallows can be toasted, I am sure no one will mind!
Though the winter months are dark and cold, Springs not that far away…
The camping season will return with sunny fun filled days!
So while the ice is freezing and cold winds are blowing strong
You will soon be by your tent again, singing campfire songs!
Author: Rosie Austin
The CampTrip Team.