Sleeping Bag Shapes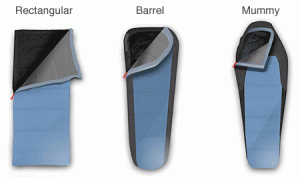 Sleeping bags come in many shapes and sizes. Your bag's shape how comfortable your sleep is and how warm you'll be when faced with cold weather. There are generally three basic sleeping bag shapes – "rectangular", "barrel" and "mummy".
Rectangular Sleeping Bags
Best suited for warm weather camping conditions.
Most inexpensive and roomy.
Standard sizes measure about 32"x 78". Larger sizes which are wider and longer are available.
Recommended for recreational camping, not backpacking or hiking.
Heavier and more bulky than other sleeping bags.
Barrel Sleeping Bags
A good compromise between the rectangular bag and the mummy.
Not as heat efficient as the mummy sleeping bag, but roomier.
More room for the shoulders, hips and feet than a mummy bag.
Less weight, bulk and air space to be heated than a rectangular bag.
Mummy Sleeping Bags
A body-hugging, cocoon-like shape, narrow at the feet, and taper up the body.
Most efficient sleeping bag due to their tapered shape and best heat retention.
Use the least amount of material which means less weight and bulk.
The most warmth per ounce than other bag shapes.
Because of their tapered shape, many people find the mummy sleeping bag too restrictive.
In a nutshell, rectangular sleeping bags are most traditionally used by family campers during the summer months; the mummy bags are used by more adventurous campers in harsher weather conditions; and the barrel sleeping bag is most popular with backpacking campers.
Author: Kirsten Reimer
(The CampTrip Team)