Sleeping Bag Size, Durability and Comfort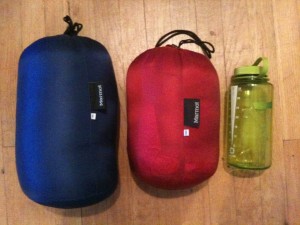 The best shape of sleeping bag and the weather conditions it will need to perform in are important questions to ask yourself when choosing the best bag for your outing. Also to consider are the weight and size of your bag (are you camping on foot or going by car?), the bag's durability (are you blazing trails and facing the elements?) and convenience and comfort (can you bring along more supplies, such as a mat, along with your bag?).
Sleeping Bag Weight and Size:
The length of a sleeping bag is calculated from the toe to the neck and does not include the hood.
Add a few inches to your height in order ensure enough room in the bag to be comfortable.
If you plan on doing a lot of long, difficult hikes, you may want a smaller sleeping bag that doesn't weigh too much.
Bags generally weigh anywhere from 2 – 10 lbs.
Sleeping Bag Durability
If you are planning to trek through miles of thorns and tree branches or over mountains of jagged rocks, you may want to invest in a sleeping bag made of stronger, more durable material which is less prone to tearing. However, the tougher sleeping bags are more expensive so if your camping expedition is more of a mild, relaxed outing an especially strong sleeping bag will be less important than perhaps a bag's comfort.
Sleeping Bag Convenience and Comfort:
If you're a car camper, weight and packed size probably won't be an important consideration for you as opposed to adequate sleeping room and padding.
If you're biking, backpacking or canoeing, you'll want to look for a lightweight and compact outdoor sleeping bag.
For maximum comfort, place a mat underneath your sleeping bag so that you have insulation from the hard –sometimes wet – ground.
Synthetic-filled bags are cheaper options than down bags; however down provides the best warmth to weight ratio and will last longer and compress smaller.
Buying a good sleeping bag is a long term investment. It is likely you will own and use that sleeping bag for many years to come so ensure you get one you are really happy with. In my opinion, buying a good quality sleeping bag is definitely worth the extra money.
Author: Kirsten
(The CampTrip Team)