Meet the CampTrip Team
About Kaitlyn
I grew up in Vancouver BC, Canada and lived in the same house for 20yrs. I decided after college to travel New Zealand, Fiji and Australia by myself for a year. I backpacked for 5 months through New Zealand before working and traveling Australia for 10 months. It was there in Cairns Australia, where I met Jeremy in a youth hostel we were staying at. It didn't take long to realize I had found someone who had exactly the same dreams and ambitions as I did. From the day I met Jeremy we have been together everyday ever since. We are currently living and working in London UK for the next couple years before we take off again into the great unknown.
About Jeremy
I am a British citizen who was born in Bulgaria and grew up in Germany where I did all my schooling and an apprenticeship as an IT-Specialist for the Deutsche Telekom. After turning 20 I moved to England. After some small jobs working as a bar tender I was employed as a web developer. After gaining much experience and mentoring I decided it was time to take off and see the world at 22, backpacking to Japan and Australia. I lived with Kaitlyn for over a year in Sydney, Australia before we took of travelling again. I am currently successfully self employed as a web developer in London.
About Kirsten
Kirsten is the editor for CampTrip as well as my (Kaitlyn's) lovely sister.Kirsten is extremely smart, mature and well spoken for her age. She loves history, reading, editing and writing. Kirsten is currently living in Vancouver, Canada and studying publishing at University. We expect big things from her in the future. Kirsten traveled with us (Jeremy and I) through Europe for 8 months and we had an awesome time together, full of memories!
About Rosie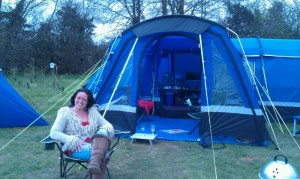 Rosie is our most recent addition to the CampTrip team. She was hired on as the Social Media Marketer  and we are so happy to have her! Rosie is fun, full of life and mother of two lovely young little girls. One of their most favorite things is, you guessed it, CAMPING! She loves nothing more than to head out with her two girls and their humungous deluxe camping tent and spend as much time outdoors as possible. Rosie is the brains and personality behind many of our tweets on Twitter, Posts on Facebook and new articles on the CampTrip site. She is a wealth of outdoor, camping and life knowledge and she always has something interesting to share.
A Bit About Us (Kaitlyn and Jeremy)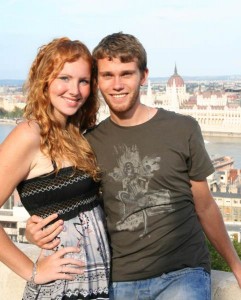 If I had to describe our life it would be "traveling nomads". We both live to travel the world, exploring different countries and cultures. We recently travelled through all of Europe for over a year and last summer cycled from London to Paris. We also love camping in the countries we travel, as we are ALWAYS on a budget we have learned that camping is the cheapest and most enjoyable way of traveling and meeting interesting people. After a couple years experiencing and living in London we aim to do our "World Trip" which is essentially the whole eastern side of the globe. We have given up the "normal life" and decided to work and travel the world until we decide it is time to settle down.
The question we get asked all the time is: "How can you afford to travel like that"? Well, we are lucky in the sense that Jeremy is a freelance web developer so he can work from anywhere in the world and has clients from every corner of the globe. We also consider ourselves to be very savvy travelers. We are always looking to find deals and make our way around the world as cheaply as possible while gaining the best experiences.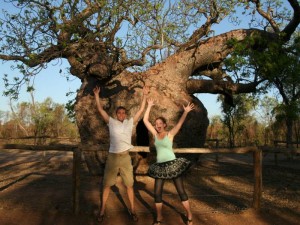 Ever since the day we met, we have been traveling the world as a pair, "like peas in a pod".. After years "downunder" we have since traveled and camped through parts of Asia, North America, all of Europe and many other countries. We have now been constantly traveling for the past 5yrs and have no intention of slowing down.
If you have any questions about us and our travels or about CampTrip.com please feel free to contact me at kaitlyn@camptrip.com I am always happy to help!
We hope you enjoy CampTrip.com and help us reach the potential we know CampTrip.com has. Thank you for reading and getting involved.
Read more About CampTrip
Happy Camping Kids!
Kaitlyn & Jeremy
(CampTrip.com Founders)